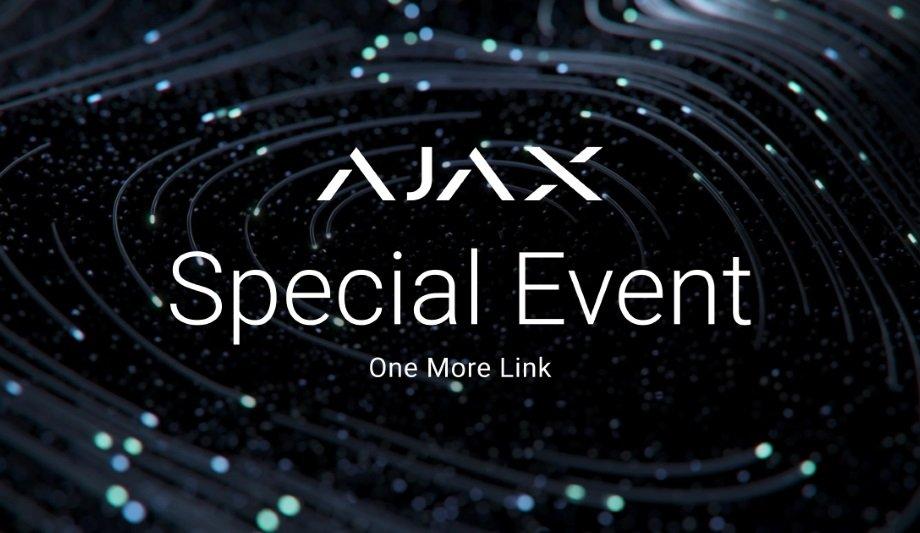 Ajax Systems presents Fibra Wired products at special event
On December 2, Ajax Systems hosted its third special event. The company introduced several significant additions to wireless security systems and showcased its own wired Fibra technology with the product line of the same name. During the presentation, the Ajax Systems team presented Ajax's first hybrid CPU, showcased new hub versions supporting 4G and presented several projects for local markets.
This year's presentation was viewed by partners and users from over 150 countries. The online event was broadcast in 14 languages: Ukrainian, English, Russian, Spanish, Italian, French, German, Dutch, Polish, Portuguese, Romanian, Turkish, Arabic and Greek.
Hybrid security system
One of the most common requests from industry professionals is a hybrid security system. The combination of wires and radio allows you to cover large industrial installations. Ajax engineers focused on technology that inherits the wireless user experience. The expertise developed since 2011 leads to Fibra.
One of the most common requests from industry professionals is a hybrid security system
New Fibra product line of wired devices embodies all the benefits of wireless Jeweler some products. A 2,000-meter line can even cover a multi-story building, while the power consumption is 100 times lower than the industry average for wired digital detectors. As in Jeweler devices, the data transmission within Fibra is encrypted, the devices are equipped with anti-sabotage technologies, the system is quick to install and allows remote control via smartphone.
Eliminate unwanted stress
The control panel for the new product line is the Hub Hybrid, which represents the synergy between wired and wireless technologies. The first version of Fibra includes nine devices that almost entirely copy the wireless line: MotionProtect, MotionProtect Plus, DoorProtect, DoorProtect Plus, GlassProtect, CombiProtect, KeyPad, HomeSiren, StreetSiren.
To help Ajax users remove unwanted stress with one click, a special range of MotionCam and MotionCam Outdoor detectors will support the photo-on-demand feature. No privacy concerns: only system users who have permission will be able to request a photo. Privacy permissions can be determined in the hub settings. In addition, with the new MotionCam detectors, it will be possible to visually confirm fire alarms.
Mobile

internet penetration

Ajax Systems will launch Hub 2 in two versions: Hub 2 (2G) and Hub 2 (4G)

To do this, the user just needs to create a scenario in the detector settings by choosing FireProtect or FireProtect Plus detectors which can generate a photo request. There will be devices on the market with and without photo-on-demand support. Great speed mobile Internet penetration varies from region to region.

Therefore, to ensure the safety of all users regardless of communication technologies, Ajax Systems will release Hub 2 in two versions: Hub 2 (2G) and Hub 2 (4G). The 2G modem version will be complemented by a new version with a more advanced modem supporting 2G, 3G and 4G (LTE) networks. Ajax users can choose a hub that suits their region, given the communication technology available.
Optimal energy consumption
The new ReX 2 now not only increases the signal range, but also controls the communication itself. Whether you have five, ten or a hundred devices connected via ReX 2, their radio modules will automatically adjust for optimal power consumption. ReX2 has four integrated antennas and two independent radio modules which double the communication range between a hub and wireless Ajax devices, including MotionCam detectors.
Ajax Systems has developed vhfBridge, a module that provides a hub with an additional communication channel
Regardless of the size of the protected area and the thickness of the walls, alarms are transmitted instantly and the first MotionCam photo is delivered in 13 seconds. The security system must always be connected, resistant to internet disturbances and able to transmit a signal in case of danger. To this end, Ajax Systems has developed vhfBridge, a module that provides a hub with an additional communication channel with a monitoring station.
Automation product line
In the event of an alarm, an event is transmitted along the chain: from a hub to the vhfBridge module via Jeweler, then through wires from vhfBridge to a third party radio transmitter, and from there to the monitoring station. The whole process is instantaneous. This makes it possible to use an Ajax system in cities with an unstable internet connection, in the mountains, nature reserves or desert areas.
Ajax Systems has expanded its range of automation products and developed a Socket (type G). The UK version of the device will have a functional button that allows using Socket without the app or button. In addition, the parameters will become more flexible: a configurable overcurrent threshold, fine adjustment of the brightness and a reset of the power meter.
Wired connected detectors
New Ajax socket will have unprecedented wireless communication range
The new Ajax socket will have an unprecedented wireless communication range: up to 7 times longer than competitors in the smart home segment. The maximum radius is up to 1,100 meters for a two-way encrypted connection that does not depend on Wi-Fi.
In response to requests from industry professionals, the MultiTransmitter integration module will benefit from support for the connection of detectors with two and three resistors. In other words, the integration module will be able to distinguish more types of events from the connected wired detectors. This will make the retrofit more flexible with multi-zone alarms in commercial properties and increase the number of compatible devices.
"Today is an important day for Ajax Systems. We have expanded our business in depth, we understand the business better, we are present in all key markets and we listen carefully to our customers and partners. Launching Fibra means going beyond our niche. We are not a company that makes stylish wireless alarm systems for the home and office. Our goal is to save lives. And do it with the best technology available"said Aleksandr Konotopskyi, CEO of Ajax Systems.