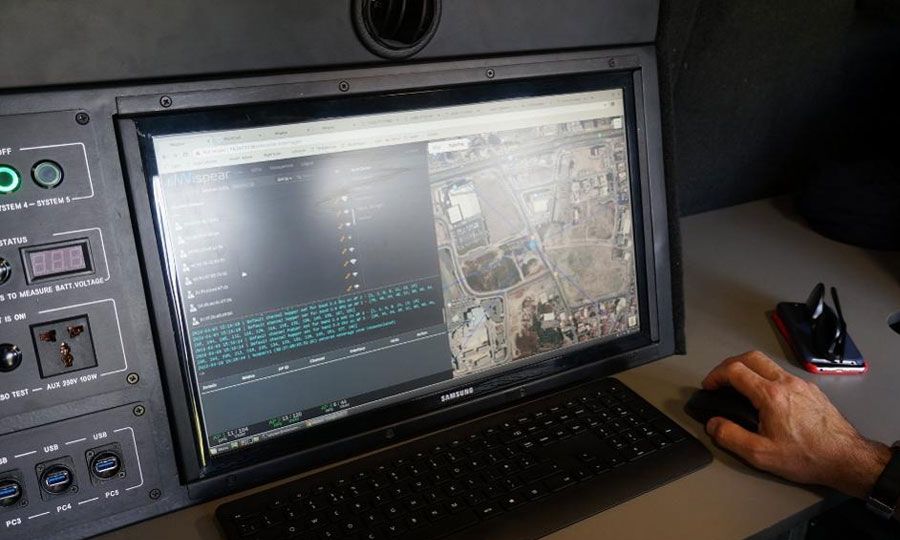 Cyprus spy van case too close to the bone, KNEWS
A police investigation in Cyprus concluded that there was no evidence of illegal wiretapping in the spy van case, but prosecutors are still pursuing the main suspects on lesser charges despite reports of alleged contacts in the past with local officials.
About a year after Cypriot police prepared a report on the country's high-profile spy van case, state prosecutors filed a complaint in a Larnaca court against two Israeli nationals, the former intelligence officer Tal Dillian and businessman Shahak Avni as well as two people in their employ.
According to local media, the charges include breaches of privacy – referring to the collection of data without authorization – and technical violations with the state accusing the main suspects and their companies of importing spy equipment and falsely declare them as meteorological material.
The case which became known as the "spy truck" refers to the high-tech surveillance vehicle known as SpearHead 360, which made world headlines after allegations against Israeli companies recorded Cypriots have reported accusations of spying on local citizens and politicians using Wi-Fi facilities near airport terminals.
Dilian vehemently denied ever spying on citizens and further criticized politicians and authorities for conducting an investigation without fully understanding the technology.
It all started after allegations emerged in the fall of 2019 following a Forbes video earlier that summer about a super-pimped ride to Larnaca, a converted ambulance truck with emergency equipment. State-of-the-art espionage that could hack smartphones, steal content, and spy on people's locations.
But according to the Politis daily, Cypriot officials were aware of the suspects and the spy van, including at least two officials, an officer from the drug squad and a law enforcement officer stationed at the KYP central intelligence service.
The main suspects claim to have sold tools to governments and law enforcement, without naming any, but insist they never engaged in covert surveillance except for demonstration purposes in Larnaca.
"We are not the policemen of the world and we are not the judges of the world," Dilian said in an interview with Forbes.
Cypriot police have officially declined to comment on past surveillance tactics. But following the spy van's revelations, officials had categorically rejected any suggestion that a law enforcement unit had been a client or agents had used illegal methods.
Local media also implicated Avni with the Italian company "The Hacking Team" which was shut down after being hacked in 2015, prompting former KYP director Andreas Pentaras to resign.
Prime suspects say they sold tools to governments and law enforcement, but insist they never engaged in covert surveillance except for demonstration purposes in Larnaca.
Pentaras resigned following a scandal after it emerged that the Republic of Cyprus was a client of Hacking Team. Local media reported that KYP purchased Galileo, one of Hacking Team's surveillance systems, which could be installed on a computer or mobile phone without the user's knowledge and used to monitor the device or devices. Skype calls, text messages and emails.
An official government statement later acknowledged that the remote attack vectors purchased by KYP from the Hacking Team compromised the data protection rights of its citizens.
Politis also pointed to a past business relationship between Avni and Deputy Attorney General's brother Savvas Angelides.
Angelides, who was previously defense minister in the current administration, told Politis he was not aware of any relationship between Avni and his brother, the latter telling the newspaper that a business venture there nearly ten years to open a spy store in Nicosia was a flop and he never crossed paths with the Israeli businessman again.
Police, who were heavily criticized for their handling of the case as well as their inexperience, sought expert advice to determine whether the confiscated equipment and the data they collected in the van spy contained evidence of illegal activity.
An independent investigator named in the case, lawyer Elias Stefanou, has been commissioned by retired Attorney General Costas Clerides to investigate whether breaches have been committed under the Republic's privacy laws. , including constitutional violations of citizens' right to privacy.
It is still unclear if evidence of a possible privacy breach was found in addition to a 29-page document referring to a list of over a million email addresses stored during the Wi-Fi scanning outside Larnaca International Airport.
Dilian said the company had proof that its operations were geared towards potential buyers, which media reported could be foreign governments.
A preliminary hearing is scheduled for next month.